Residential Change Locks San Francisco CA
San Francisco Locksmiths has been providing change locks service to the San Francisco area for over a decade using top quality lock brands and effective crime prevention methods to further protect your San Francisco home. Our residential locksmith technicians provide 24 hour locksmith services and are readily available when you are in need of an emergency locksmith.
24 Hour Locksmith Services in San Francisco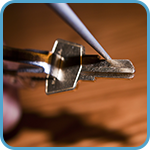 We carry all the top high end brands from Schlage, Cyber, and Medeco that will protect against lock bumping. Our residential locksmith technicians in San Francisco can do it all from master key systems, keyless entry locks, deadbolt installation/repair, gate locks, and much more. We also specialize in antique lock restoration and repair as there are many Victorian and Edwardian era homes throughout San Francisco that have hardware still original and true to the homes and architectural style.
For your convenience, our San Francisco locksmith team is backed by our 90 day warranty on all parts and labor. Call San Francisco Locksmiths today at 650-271-9358 to speak with your local San Francisco residential locksmith for assistance!
Residential Change Locks San Francisco Services:
Deadbolt installation/repair
Gate locks
Single key systems
Keyless entry locks
Antique lock restoration